The Lens Description Standard Add-In for Excel helps you to create a valid LDS file. Simply enter your lens data in the proper columns and click LDS Export.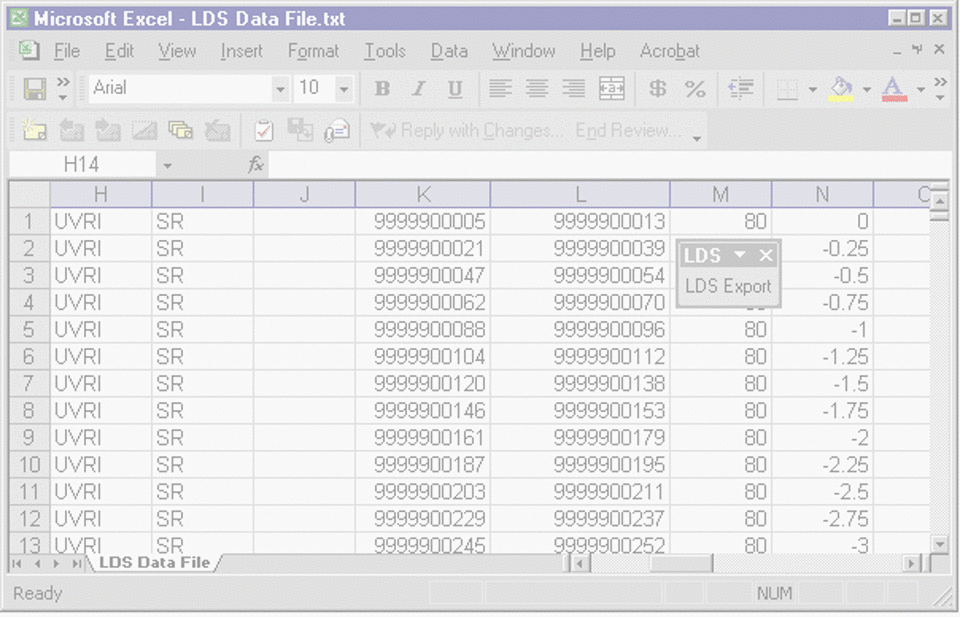 This add-in replaces the function of "Save As" and indicating a CSV file. Add-in features:
Creates a comma-separated values (CSV) file, per the LDS specification
Removes any extra double-quotes from your spreadsheet, but adds them when necessary
Pads leading zeros on OPCs
Checks for invalid OPCs (checksum failure)
Trims unnecessary leading and trailing spaces in columns
Currently works with lens data (not sag data)
Requires Excel 2000 or later (will not work with Excel 97)
After running the install program, and re-starting Excel, you will see a new add-in (as shown above). It can be moved to the menu bar so as not to cover up the spreadsheet working area. You then simply prepare the LDS file in Excel and then click LDS Export.
Please note: Optivision, Inc. cannot be held liable for any damage or loss of data by using this add-in. The add-in is provided "as-is" and comes with very limited support via e-mail.

Please e-mail feedback and comments to ldsquestions@optivisioninc.com.
Click Here to download and install Optivision's LDS Add-In for Excel.